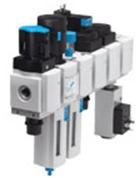 Frl by Festo
Related Technologies:
Festo offers service unit combinations and individual units for preparing compressed air in two series: MS series and D series. With a full range of manual, electrical, and pneumatic on/off valves, soft-start valves, as well as fine, micro, and coalescing filters, D Series and DB Series air preparation units meet whatever compressed air quality level your application requires.
About Festo

Festo is the world's leading provider of pneumatic and electrical automation technology has the right solution for every requirement with over 28,000 catalogue products, customized solutions, ready-to-install automation systems and a matching range of services from SA products to before and after-sales support. Innovations for higher productivity, reduced costs and increased energy efficiency are the critical parameters for the success of tomorrow's automation solutions.